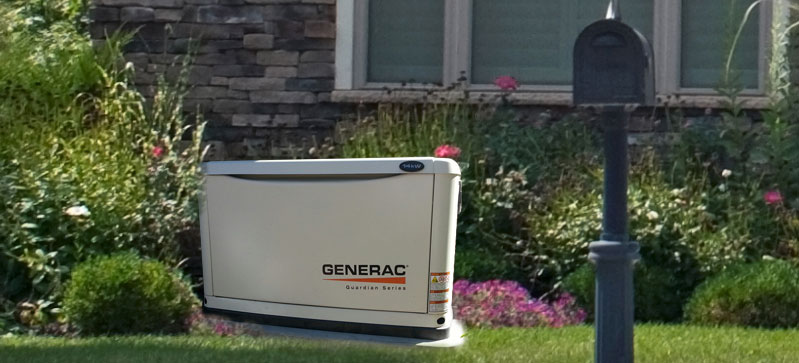 Residential Generators in McKinney, Plano, Garland, Richardson, and Allen, TX
Schedule an Appointment?
Fill out the form below and we'll get back to you right away.
These days, most homes have numerous sophisticated appliances and devices that require a steady, uninterrupted electrical power supply to function. Televisions, computers, washing machines, microwave ovens, air-conditioners and refrigerators all need a consistent source of power. However, power companies may not be able to supply power 100% of the time due to unexpected outages.
Power outages are unavoidable. Heavy rains, snow and tornadoes can cause power to go down. Aside from weather-related causes, power can also go out if something else happens with the power lines, like with accidents or during occasional maintenance. Power outages can sometimes takes hours or days to resolve, something that most families cannot afford.
If power does not get restored immediately, food in the refrigerator may spoil and go to waste. The household will lose its ventilation, heating or air-conditioning system, making sleeping difficult. Those working at home will not get any work done as even laptops with backup batteries have a limited up time. Household chores get delayed indefinitely.
Power outages lead to anxiety and stress. Kids become uncomfortable and restless. Work gets delayed. However, there is something you can do to prevent this. Back up power generators are available to provide backup power and keep your appliances going during power outages. Some may think that setting up your own residential generator can be too expensive or take too much effort. Pettett Electric can help you with that.
Pettett Electric provides various services including installation, troubleshooting, repair and maintenance. Our highly skilled residential electricians have years of experience in helping customers set up generators. We will help you in finding out the correct type of generator that can cover your home's power needs during outages. Thousands of satisfied customers are now at ease knowing that they have reliable back up power installed.
We do the following as part of our service:
We find and suggest the location where the generator is going to be set up, ensuring that the location is well-ventilated for easy access and future maintenance.
We do quality checks on all equipment to prevent future issues or unnecessary repair.
We educate our customers on the operation of the generator.
We identify any potential issues in relation to safety at home and address them.
They say that happiness begins at home. Let us help you put smiles on your family members' faces. Pettett Electric is known for professional electrical services, quality maintenance and reliable technicians. Contact us for set up, maintenance and any issues involving your residential generator. Call us now for a free estimate at 972-388-3560. We'd like to hear from you.