Professional Electrical Services in Dallas, TX
It's vital to choose the correct electrical service provider who can build, maintain, and update critical electrical systems in both home and commercial settings. Every homeowner or business owner should prioritize safety. This is why, obtaining experienced electrical wiring system services is important during new building projects, renovation, or emergency situations.
Professionals should handle electrical services since they know how to properly manage projects. You can never go wrong with experts when it comes to troubleshooting a breakdown, having an electrical system fixed, or getting new installation work done. They have years of expertise in the sector to back them up.
Pettett Electric is the company to trust in Dallas for electrical services. We have expert and trained professionals who can provide you with the best possible service. To get our electrical services in Dallas, call 972-388-3560. You can also click here to make an appointment for services ASAP.
Residential & Commercial Electrical Services in Dallas, TX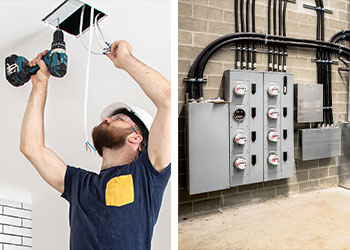 When it comes to complete residential and business electrical services in Dallas, TX, one brand stands out. That is Pettett Electric. For more than three decades, we have served thousands of clients in Dallas and the neighboring areas of Texas. Our skilled electricians are accustomed to dealing with a variety of situations. Because of them, we are the most trusted company for electrical services in Dallas and the surrounding areas in Texas.
We offer a whole suite of services, from electrical works for residential properties and commercial establishments to energy-efficient electrical services, lighting retrofits, emergency power services, safety inspections, and electrical system installation for new construction and remodeling projects.
Count on Us for Electrical Services in Dallas
If you live in Dallas and need electrical services, you can count on us for whatever service you need for you. Call us now at 972-388-3560 to learn more or click here to arrange an appointment for services ASAP at your home or office in Dallas.