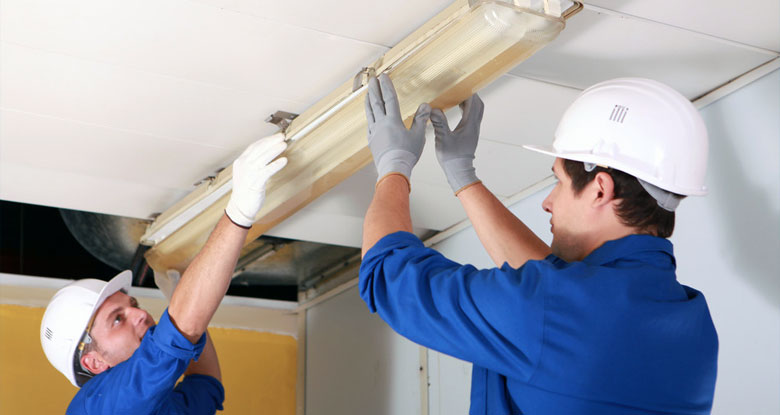 Lighting Repair and Replacement in Plano, Garland, Richardson, McKinney and Allen, TX
Schedule an Appointment?
Fill out the form below and we'll get back to you right away.
Lighting repair and replacement may seem like an easy enough task to do yourself. After all, it doesn't take that much to change a light bulb. However, for legal and insurance reasons, you'll want quality service from a reputable company to address your electrical and lighting needs. Whether you're starting a new business or remodeling a previously used space, Pettett Electric is the name to call for all your lighting repair and replacement needs.
Our team is composed of expertly trained professionals who can help you repair or replace a variety of electrical projects while also making sure to avoid power failures and the risk of having an unsafe environment for you and your employees. If your business dwelling suffers from flickering or inoperable lighting, sparking, or faulty switches, we urge you to call us right away. Do not give in to the urge to DIY - these things may seem small and manageable, but could have a single cause that requires the expert eye of a trained commercial electrician so that you and yours can stay safe without disrupting your bottom line and business routine. 
Lighting and other electrical concerns are a vital part of your business that shouldn't be left to an amateur. Whether you need a light installed or a comprehensive review of your new business' circuity, Pettett Electric is the company you can trust. Our personnel will repair any kind of lighting system, or find all the necessary parts to replace components should it be required. This can be expensive, comprehensive work, so it is in your best interest to find an honest, reliable service who can cover your business' lighting systems and keep them functioning so that you never have to worry about them again. We are equipped to handle any lighting need, may it be indoor or outdoor lighting, lighting updates, LED lighting, or any special fixtures that you may have installed. 
Pettett Electric prides itself in its commitment to provide the best possible electrical service in the greater Texas area: safe, timely, and of the highest quality. Contact us today at 972-388-3560 at the first sign of trouble with your lights and fixtures and we will be happy to provide a reasonable quote for you.