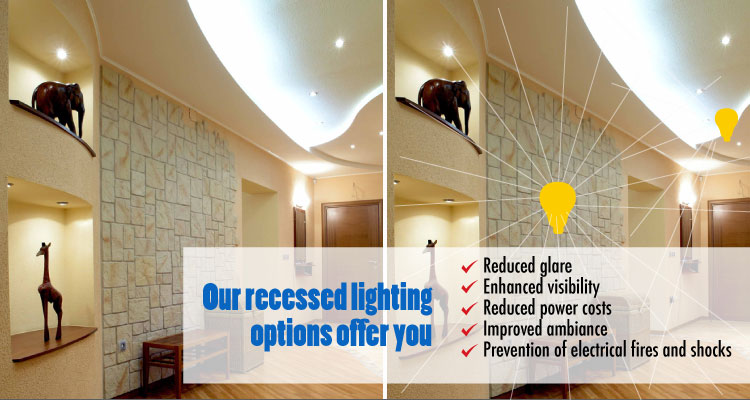 Recessed Lighting Electrical Services in McKinney, Plano, Garland, Richardson, and Allen, TX
Schedule an Appointment?
Fill out the form below and we'll get back to you right away.
Recessed lighting is always a nice touch to any home or establishment as it adds an element of charm and elegance to a property. Besides being easy on the eyes since it doesn't cause any direct glare, it also enhances the mood, atmosphere, and ambiance of any room while maintaining good visibility for the people who use that area. On top of all of that, having recessed lighting is also a practical choice, particularly in spaces with low ceilings or limited floor space, as drop lights or lamps can take up valuable real estate that can be used for other purposes instead.
As with any type of lighting fixture, however, the installation of recessed lighting requires the assistance of licensed, professional electricians. This is to ensure that everything is wired properly and that the additional load of the lighting to your property's system can be accommodated. These two factors are important in the aim to prevent electrical fires and shocks that can harm both appliances and people. Proper wiring and load capacity also prevents flickering or dim lights which can be irritating to the people within the premises.
If you are considering making use of recessed lighting, give us at Pettett Electric a call, and our team of highly-trained and experienced electricians will be happy to assist you with this task, or any other electrical-related job you may need. Having provided top-quality electrical services to residents and businesses in Denton County, TX and nearby areas for 30 years and counting, we can guarantee that you will soon be among our literally thousands of satisfied clients. We can provide you with FREE ESTIMATES, as well as valuable advice and recommendations that will suit your preferences, needs, and budget. Most of all, we understand the importance of what we do for our customers, which is why we don't cut corners and we don't have any hidden fees.
For any type of lighting installation, repair, or replacement, give us a call at 972-388-3560 or send us a message via our online contact form. Our helpful and friendly staff are on hand to answer any inquiries you may have, so call us today!